Whether you're vegan or just looking to try a new avocado recipe, check out these avocado vegan tacos – with jackfruit! Jackfruit is large, spiky fruit from South-East Asia. It is a fantastic meat alternative that makes these vegan tacos out of this world.
How To Make Avocado Vegan Tacos
Ingredients
1 ripe avocado
12 corn tortillas
1 yellow onion
2 limes
1 punnet cherry tomatoes, halved
A small handful of coriander
Purple cabbage, finely sliced
1 can corn kernels
2 cans jackfruit, drained and rinsed
½ small red onion, finely sliced
1 packet taco mix
¼ cup barbecue sauce (vegan, if preferred)
2 tablespoons extra virgin olive oil
Salt and pepper to taste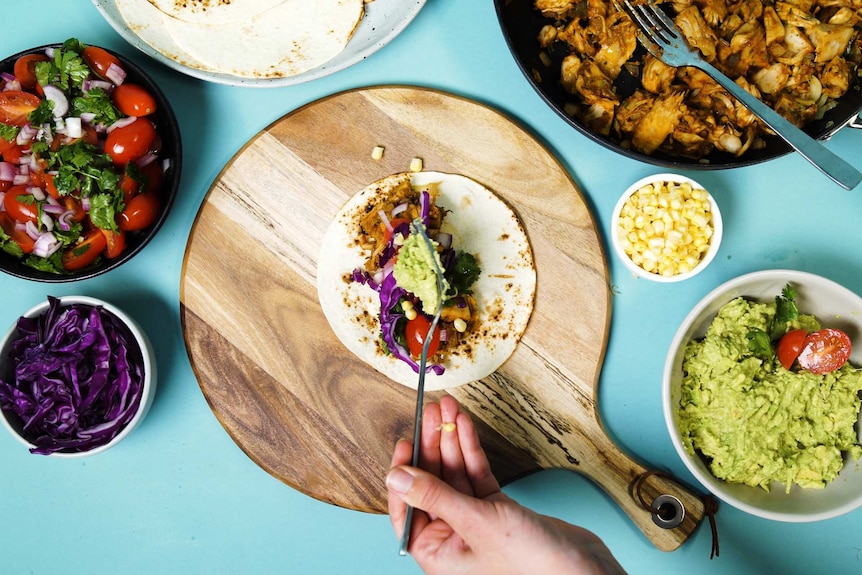 Instructions
Separate the coriander from the stems and roughly chop. Finely chop the stems and set them aside for later.
For the salsa, take a medium bowl and combine the coriander, tomatoes, red onion, and juice from the lime. Mix well and season with salt and pepper.
Mash your avocado and season with salt and pepper.
Next, place the pieces of jackfruit in a large bowl and shred the jackfruit with your hands or a fork. The fruit will come apart similarly to pulled pork or shredded chicken.
Set a large frying pan over medium heat. Heat a drizzle of cooking oil and add the chopped yellow onion. Saute for about 5 minutes, until the onion turns translucent.
Add the shredded jackfruit to the pan, then add the coriander stems and taco mix. Saute for another minute.
Add barbecue sauce and stir well. Season with salt and pepper and remove from heat.
Place the tortillas in a damp paper towel and microwave until soft and pliable, about 20 seconds.
Place a generous amount of taco filling into each tortilla with mashed avo and salsa on top. Serve your avocado vegan tacos with extra lime wedges on the side.